Your business is unique! And that's exactly how it should stay.
With MyDeliveryKMU, you can focus on your core business again, and we'll focus on ensuring that your product reaches the right place at the right time. And we do all this for a great price.
But one step at a time. Are you familiar with the following situation? It's 4 p.m. on a weekday at your company. You have just found out that a customer urgently needs a delivery for the next day. The product is available in stock, but who will take it to the parcel delivery company at this time of day? And how can you ensure that it really will be delivered the next day?
Or alternatively: The customer requires an urgent delivery but he is not available during the day. How can your customer let you know which delivery time would suit him best?
If all of this sounds familiar, then we have the ideal solution for you!
A service that has been running successfully for some time with major retail companies such as HP (Schweiz AG), Sunrise and Media Markt is now available to you as an SME (KMU in German). We have now introduced parcel collection as an additional service especially for SME customers, whereby we take care of the entire delivery chain.
How does MyDeliveryKMU work?
MyDeliveryKMU is a logistics tool that you can simply link into your web shop. Your customers can use it to select the individual delivery or collection option for their online order.
The solution essentially consists of two modules that can also be used independently of each other. However, the greatest added value is achieved when they are used in tandem:
The innovative software tool for your web shop:
Your customer can freely select the delivery time and destination (e.g. same day, evening or Saturday delivery), and can choose from 2,500 collection points.
He can track and manage his deliveries thanks to easy access to the information, without the need to log in or download apps.
You can simply make the tool visible to your customers in your web shop.
The innovative logistics solution:
Once a day, you prepare your parcels and letters and we will collect them from your premises.
Depending on the chosen delivery option, we take care of the interim storage and organise the delivery of your parcels via our transport network using partners such as Swiss Post, DPD and Notime – at great rates.
We also integrate new exciting services that are needs-oriented to increase the service level and attractiveness for you and your end customers.
1. Delivery Method
Decide between collection and home delivery as required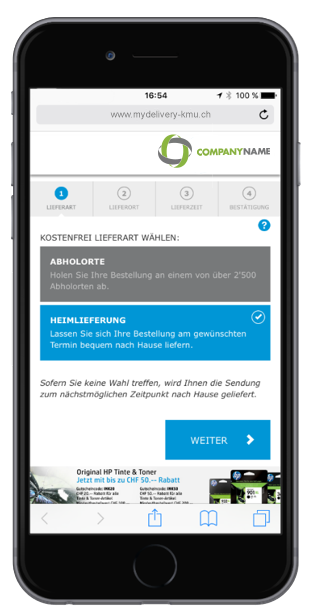 2. Place of delivery
In the case of a collection, select the right collection point from the network of 2,000 available.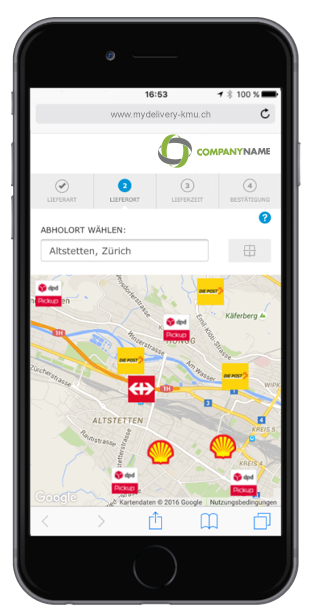 2. Delivery time
In the case of home delivery, select the desired delivery date and time.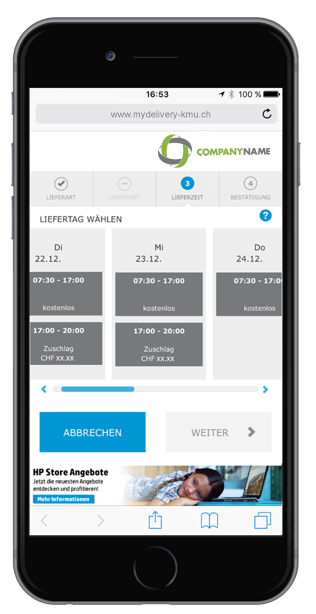 4. Confirmation
Activate additional requests via state-of-the-art mobile payment and pay directly upon delivery.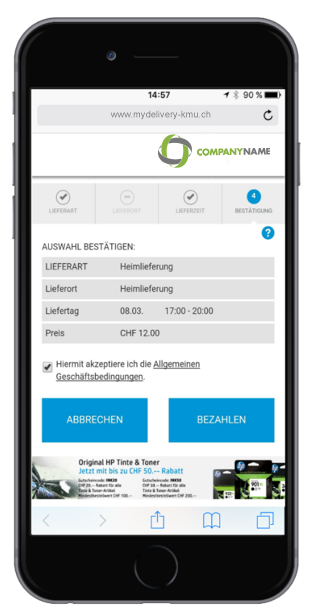 5. Ordertracking
Keep track of the current order status at all times with the order tracking function.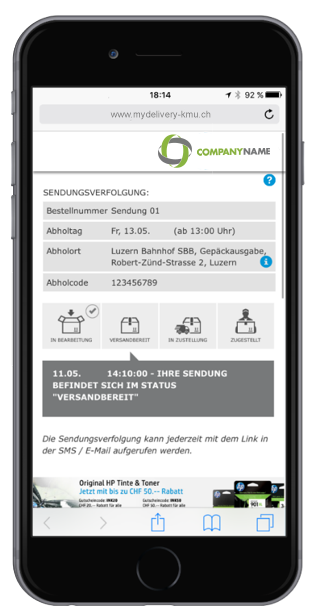 Your ALSO contact for queries and information
MyDeliveryKMU is an innovative step towards greater freedom and individuality – both for you and for your customers. Would you like to delight your customers with this ultra-modern logistics service? Please contact us at any time for further information: